Manasarovar
Feature Film/India/English/90 Min/35MM
An award winning love story starring Atul Kulkarni, Neha Dubey and Zafar Karachiwala.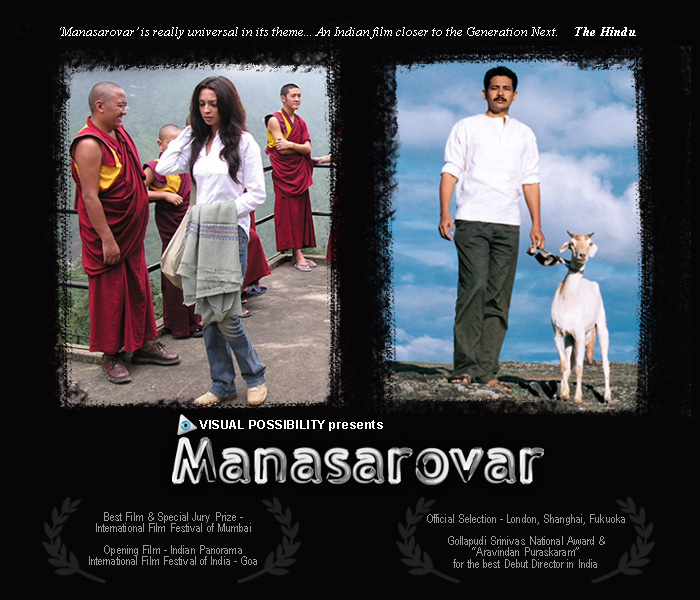 Shot extensively in Maharashtra, Kerala and Himachal Pradesh, Manasarovar takes you across the rugged landscapes of the Deccan Plateau, greenery of Kerala and the serenity of Dharamsala.
---
Awards & Festivals
Best Picture and Special Jury Prize - International Film Festival of Mumbai (MAMI)
"Gollapudi Srinivas National Award" for Best Debut Director in India
"Aravindan Puraskaram" for Best Debut Director in India
Official Selection - London Film Festival
In Competition - Asian New Talent Prize - Shanghai International Film Festival
Official Selection - Focus on Asia, Fukuoka International Film Festival, Japan, Asian Film Festival, Auckland, Kolkata Film Festival
Opening Film - Indian Panorama, International Film Festival of India, Goa
Showcased at the Smithsonian Institution, Washington DC as one of the six films for the "Celebration of Kerala" cinema package.
---
Quotes
London Film Festival/Times BFI - In its tightly framed cinematography and clipped editing Kurian offers an invigorating new cinematic style to Indian cinema.
The Hindu - 'Manasarovar' is really universal in its theme...an Indian film closer to the 'Generation Next'.
Afternoon Despatch and Courier - Unassuming, wild and yet so adorable, Ravi Roy tugs at your heart with an innocence that is rare to find.
Times of India - It's the way that the Director straddles the divide between the city and countryside, corporate and personal, practical and lyrical, feminist and feminine, that makes Manasarovar the many plaudits it has already garnered.
---
Crew
Writer/Director - Anup Kurian
Producers - Mathewkutty Mattom, Arun Kurian, KV Kurien, Anup Kurian
Cinematography - Viswamangal Kitsu
Sound Design - Gissy Michael
Art Direction - Mathewkutty Mattom
Editing - Unni Vijayan
Music - David Prahl, Lisa Stanislawski, Craig Leininger
Songs - RANDOM and Lisa Stan
---
Censor/ratings: India - 'U' | UK - '12A'
---
Other Details
DVDs are made on top quality imported 'Taiyo Uden' discs, are region free, brand new and shipped from India.
The film is in English. For the few Marathi/Malayalam/Hindi dialogues English subtitles are available.
Contents: DVD, thin light imported Scanavo jacket, inlay card.
DVD shipped by "Registered Airmail". 2-4 days for delivery in India and 10-14 days for delivery all over the world.
The disc contains the film, menus for scene selection, special features (trailers, making of Manasarovar video, theme song and slideshow) etc. DVD sold by the Producers of Manasarovar.

The title 'MANASAROVAR' refers to the lake MANASAROVAR in Tibet, a sacred place for Buddhists and Hindus. In the film the title stands for 'the quest for clarity in ones life'.